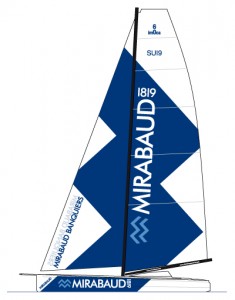 Designed by Owen Clarke Design according to Dominique Wavre's recommendations, the 60' Open Mirabaud has already sailed over 49 000 nautical miles in races. Its skipper knows the boat like the back of his hand.
The Open 60 Mirabaud is a 60-foot, IMOCA class yacht. Built in New Zealand by Southern Ocean Marine according to original plans supplied by the English naval architect firm Owen Clarke Design, the yacht made its maiden run in Pacific waters in June 2006.
Developed in accordance with the regulations stipulated by the IMOCA (International Monohull Open Class Association), Dominique Wavre's monohull racing yacht is the fruit of a close collaboration between the expert naval architects, with their experience in shipbuilding, and the skipper, whose experience includes seven global circumnavigations. Design guidelines gave top priority to the yacht's weight, performance, power and reliability. Careful attention was likewise given to the yacht's ergonomics, not only on deck but in the cabin as well, with the aim of optimizing the skipper's performance in solo manoeuvres and navigation, as well as during periods of repose.
Five dividers separate the boat into six watertight compartments, guaranteeing sufficient flotation in case of collision. The carbon Nomex sandwich construction also guarantees more than 100% buoyancy.
In the weeks ahead, Dominique Wavre's sailboat, the Mirabaud, will be optimised in preparation for its next encounters. Numerous improvements will be made on key points, notably to increase the yacht's stability and stiffness under sail while reducing its weight. In addition to these improvements, the keel head damaged during the last Vendée Globe will be repaired. The engine will also be changed and new sails made by Incidence will help improve performances. "We know the boat still has considerable potential for improvement, and we are working on it with the Barcelona World Race in mind," Dominique explains.